PLEASE NOTE : For reasons which will quickly become apparent I refer to the Petten, Holland object as a, "Drone" purely because this is how it is being referred to in the course of being perpetuated across the internet and will ultimately enable ease of access for SE's/reference purposes.
I personally do NOT believe this object is related to the 2007 Californian Drone Hoax in any way shape or form (and I am apparently in the minority) but for what it's worth I believe that the witness of this recent (Petten, Holland) object is sincere and has shared the circumstances surrounding the sighting to the best of his recollection.

---
It was first reported by BJ Booth at the UFO Casebook on 12th April (2009) with the following title and message:
Drone-Like UFO Photographed in Holland, 2007
Petten, Holland, September, 2007
I was fishing with my wife, when I noticed something in the sky. I could not see what it was, because off in the distance we saw it as a black spot.

Altitude was about 300 meters. I took my camera, Nikon D50 and had a 300 mm lens on it. I just shot some pics (about 12), so I could see it on the computer.

It stayed for about half an hour, and then it disappeared (we didn't see it flying away). Photograph was taken in Holland, near Petten, on September 8, 2007.

regards,

Source: UFOCasebook Front Page
---
This was then followed up on the 14th April (2009) with another two photographs then after further contact with the witness the full thirteen images were released at UFOCasebook as a zip file.
It was in this third posting that BJ Booth also wrote:
"I had a phone conversation with Linda Moulton Howe this afternoon, and we are collaborating on the research and information gathering aspect of the Holland drone-like photographs... more info will be coming soon. thanks again."

---
To be honest my (and many others) initial thought was that it was a kite of some description, this was just from the first release which contained just the one image, this seemed to be further confirmed by the second release of two images. And when the full sequence of (13) images were all released in their entirety this further confirmed that we were indeed looking at the motion very similar to that of a kite: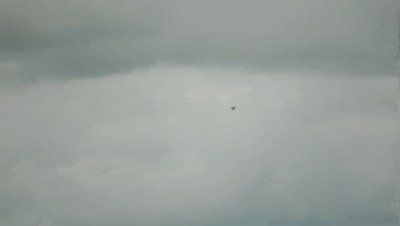 Animation Of Petten UFO
---
Where's Waldof?!

The witness joined the UFOCasebook forum after the first image was released (April 13 th 2009) and was a willing participant in the discussion elaborating and answering more questions regarding his experience, his user name was/is *Ruud*.
Below are some of the kites located which were of a similar structure to the object that was photographed in Petten, Holland.
Here's an overlay courtesy of UFOCasebook forum member Marvin.


All of the above were posted to the Casebook thread on or before the 16th April (2009).
Most are from the following link which also describes how you can even construct your own Waldof kite!! (Source)
Also, as well as a multitude of similar kites being found a couple of kite forums were contacted in the process of trying to positively identify the object as a kite, here's the first reply to the question on the kitebuilder.com forum.
---
Hate to disappoint anyone but .....
I got no hesitation, that is a kite

Moves like a kite, looks like a kite..it's a kite.

I reckon you even named it. A Waldorf [*Edit: SP – Waldof] Box (or Variant)


pic courtesy of Kite plan base
Any of our guys want to own up
BTW, some of your guys saying about reported lack of wind.

Bare[sic] in mind, skies like that, on a beach, very unlikely to be zero wind.

May have been light, witness/photographer may have been in wind shadow from dunes or the like but I wouldn't belive[sic] zero wind.

Also, most non kite flyers underestimated the amount of wind needed to fly a well built and suitable kite. The Waldorf will fly in 10mph winds happily..... and stronger winds would be likely at 300m

Most people reckon 10mph is nothing, especially if they are sheltered.

It's also quite normal for wind to be selective, stronger in one place then another close by...ask any sailor or kite flyer
Source: Kitebuilder.com
---
I expressed my concern and disappointment at the time that this particular sighting was being associated with the Drones at all, irrespective of whether this was merely an aesthetic similarity or not. Mainly because I suspected it would (and now has) become inextricably linked to the original California Drones of 2007 which are widely recognised and accepted as an internet hoax, I also suspected that as a result of this vague marrying of rings and appendages the recent Petten image would be classified as ' guilty by association ' and wouldn't receive a fraction of the attention and analysis that the original Drone images had.
Well, I was also apprehensive of myself and others being too eager at drawing parallels with the Drones as I can still remember –with some clarity- the circus atmosphere that surrounded the Drone debacle once a couple of Ufology's 'bigger' and more media-friendly players caught scent of a story. It was an atmosphere reminiscent of 'old –school' Ufology with the one-upmanship mentality, ad-hominem attacks and refusal to co-operate. As a matter of fact Linda Moulton Howe (LMH) of the Earthfiles website still believes that she is perfectly justified in withholding vital evidence in the form of eleven high-resolution photographs (part of a set of twelve) which she was trusted to share in their entirety from one of the original five Drone witnesses, but I've wrote about this a couple of times prior so rather than rehash it again it can still be viewed online by visiting here.
---
Regarding the Drone association BJ Booth has since stated (April 15th 2009) that:
"I never asked him [the witness] about the drones. It was I who first used the phrase, "drone-like" simply because that was the first thing that came to mind. What should I have called it?

(snip)
I do not know what it [Petten object] is, and I have never said what it is."

Source: BJ Booth - UFOCasebook Forum

---
So it's clear to see that this link to the Drones was nothing more than a familiar phrase used to describe an otherwise difficult to explain shape and the heading of the UFOCasebook page in question even states that the object was "Drone- like" rather than a Drone.
Then in the early hours of the 17th April the witness (Ruud) wrote the following (please bear in mind that English is his second language and I've posted the comment exactly as it was originally posted):
---
Personaly I didn't made a link to a drone. I thougt drones were much bigger and much more suffisticated.
More alien so to speak. (fake or not)
I never heard about woldof kites, now I know there is a variaty of kites in al kind of shapes (impressive).
I have no benefit what so ever of posting those pics, (only that my English is updated).
I like to watch the sky, especially at night.
I don't believe in god, I have seen lots of meteorites, sattelites speeding through the space. I have seen UFO balloons. (Thai balloons). I have seen Skylab and the ISS.
I have also seen the Hayley comet (with the tail).
I am just a sober guy from Holland wich could not explain something I took pictures of.
---
LMH Strikes Again
And later on the 17th April and Earthfiles (after gaining access to the witness) writes a piece with the headline of:
Spider-Like "Drone" Photographed Over Petten, Holland.
Did you notice the less-than subtle difference between UFOCasebook's title?
UFOCasebook called it a "Drone-like UFO" while LMH (Earthfiles.com) removed the possibility of a UFO completely and called it a "Spider-like Drone".
Then LMH writes:
"No other 2007 photographs of the mysterious "drones" emerged - until now…..So now, I am adding another line to the chronological list of eyewitnesses:"
This should surely raise questions about the investigative prowess of LMH in all persons, from the casual reader to the hardened 'nuts & bolts' Ufologist.
As apart from the fact that the witness has stated prior that it in no way reminded him of a Drone LMH steamrollers over his opinion and classifies it 100% as a "Drone," still, no real surprises there as "Drones" with a great deal worse defining criteria have qualified for LMH's –already laughable- list of "Drone-witnesses".
When actually asked about the Drones by LMH Ruud stated that he wasn't really aware of them prior but was surprised that while his report was classed as a "Drone" people believed he was being less than truthful, this was due solely to the fact that everyone except LMH and a couple of hardcore Drone believers now accept that the 2007 California Drones were a deliberate internet hoax.
---
When Is A Kite Not A Kite?
In a thinly veiled attempting to justify this she states that:
"THAT WAS APPARENTLY PROVOKED BY SOME CALCULATED MISINFORMATION CAMPAIGN BY PEOPLE UNKNOWN IN 2007 TRYING TO PAINT THE PHOTOS THAT EMERGED AS BEING HOAXED."
I had to re-read it a couple of times!!
Firstly, apart from the fact that LMH completely ignored the fact that 2007 Drones were analysed and found to be CGI by every single specialist who took the time, some of whom are industry recognised professionals and I hasten to add these are not 'debunkers' by any stretch of the imagination as they are also believers and/or have first hand experience of the nuts & bolts UFO phenomenon.
Secondly the entire Petten Drone/kite are and the full article by LMH is basically turning a kite into a Drone and then it climaxes with unknown persons waging a "MISINFORMATION CAMPAIGN "!!
Still, I suppose she is the expert…..
Anyway, after the interview was published with Ruud, he wrote:

---
"I have no intention my pictures going around knowing as an hoax.

I hate hoaxes.

I have seen pics of that phony thing you are calling a drone all speaking about that it is an hoax.

It never had my interest because it looked so unreal.

Also there is no resemblence with the pics I took."

---
And for what it's worth here was my reply (to Ruud):

Regarding the Drones I agree with you and this is why I was keen to disassociate your report from them by posting to another board and when that failed by creating a new thread in the Drone section. However your report is destined to eternally be labelled as a "Drone" due almost exclusively to the portrayal of you and your account at Earthfiles.
I'm sure you can appreciate it's now a 'done-deal' and you're a "Drone-witness" as far as LMH is concerned and what's good enough for her is good enough for die-hard Dronies the world over, as they all seem to classify and claim LMH's word as beyond reproach. But take heart because at least after this latest debacle a few more people have had their eyes opened to the media entrepreneur that is LMH, and hopefully also to her subscriber/ratings orientated method of investigative 'scientific' reporting…..

---
I am however still pleased that LMH conducted the interview in her usual manner. I say this because as this time she wasn't the first port-of-call for the witness, it meant that she wasn't reporting on a sighting, witness & images that only she had exclusive access to (which was often the case with the original Drone reports).
So in my humble opinion and albeit inadvertently she's done us all a favour by once again reminding us of why the moniker of 'story-teller' is infinitely more applicable than that of 'investigative reporter' or a 'scientific consultant' (which C2C touts her as when she appears on their show).
In short I believe that the 'kite' possibility at least warranted a mention, and certainly more than the inclusion of the report in the "Original Drone Timeline" did, but hey, what do I know.....